The Dog House Mission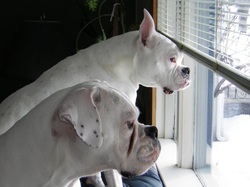 ~I am here to help you rehome your pet~
~I am here to help you find support for behaviour issues for your pet~
~I am here to offer information about proper vet care for your pet~
~I am here to help find forever homes for strays or unwanted Boxers if I am able~
~I am only here because I have "fosters" who are able to take in and care for these dogs~
~I am only one person and have a huge heart for this breed (as well as many others) so my heart gets broken allot~
~I am passionate about my dogs and genuinely care for the people who are owned by them~
~I am not able to take every dog that I would like,  nor am I able to help every dog~
~I am not here to bully or badger you into surrendering your dog for the intention of making money~
~I will always need help to fundraise and collect donations~
~I will unfortunately do this as long as people DO NOT spay or neuter their pets~
~I am Winnipeg Boxer Rescue – since 1999~
Our goal is to find loving, healthy, happy homes for all Boxers!
I am the only person taking care of intake, adoptions and home visits.  Please be patient as I have a regular job and have my own dogs to care for.
We DO NOT buy Boxers for the purpose of adoption!!!  WE DO NOT PROFIT FROM OUR DOGS
Adoptions are donations used to cover all medical costs for all dogs in my care.  
Puppies (under 12 mths) $500
Adults (under the age of 6-7 yrs old) $450
Seniors (8 yrs and older) $300.00
(donation costs are subject to change with each individual dog, depending on vetting and other unexpected costs)
All dogs are spayed/neutered,  all shots are up to date,  dewormed (if needed), tattooed, and each dog is heartworm tested.  Heartworm medication is given while dogs are in rescue.  Once adopted the new owner is responsible to purchase the remaining heartworm medication. Many other medical issues may arise when a dog comes into rescue and we do our best to address each and everyone,  we will go above and beyond the routine care that is promised when ever possible.
As the director I look after all vet bills myself and try and recoup some of them with adoption donations and fundraisers.  The adoption costs are based on vetting of dogs,  however there are some exceptions.  All donations over the vet costs are used for other dogs who may require a higher amount of medical care.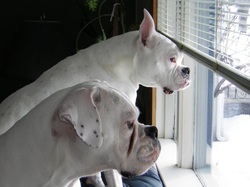 White Boxers are not albinos and their colouration is not the result of a genetic mutation. In Boxers, white is just a color. But white dogs tend to burn in the sun and may be at increased risk of skin cancer.
People that just want to breed their dogs for fun, money or to have another puppy should know that Rescues will always have dogs for adoption!
Winnipeg Boxer Rescue's intention is to see less and less Boxers in need of adoption
We reserve the right to change the adoption donations on each dog.